Fourth Sunday of Advent – Peaceful Readings and Prayers for Lighting the Candle.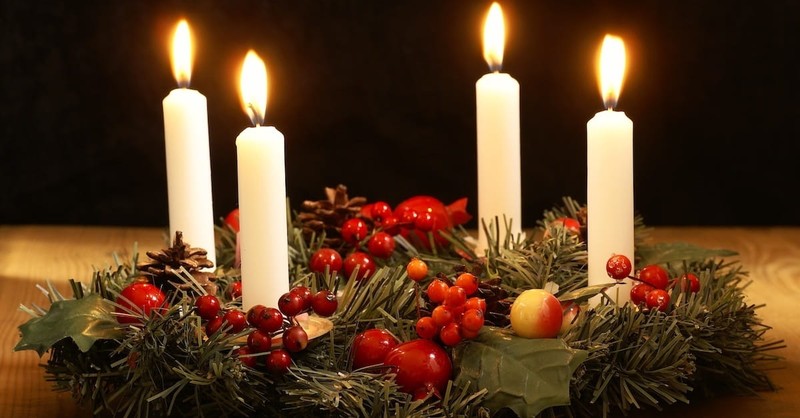 The fourth and final Sunday of Advent in 2021 is on Sunday, December 19th. Advent is the season in which believers eagerly anticipate the celebration of Christ's birth. Reading, prayer, and reflection are ways we can cultivate a sense of holy anticipation this Advent. The fourth Sunday of Advent we meditate on the peace that Jesus brings our hearts and our world. Scripture is the place we can find the promises of God. Let us meditate on these truths and allow them to comfort our hearts this Advent season!
2 Thessalonians 3:16 says, "Now may the Lord of peace himself give you peace at all times and in every way. The Lord be with all of you."
This week we focus our hearts on the "Lord of peace" who came down from heaven in the form of a baby. God knows that we are in a constant battle against fear! Fear wants to cripple us, to push us to react rather than carefully respond, and fear steals our joy. God has given us the gift of peace so we can live joy-filled lives!
Over this Advent, would you pray that God's unexplainable peace would be evident in your heart and home. This year we all have faced so much chaos and uncertainty. God's peace is something we need to grab tightly onto more than ever. May God's spirit transform the days leading up to Christmas into a time to joyfully await our King!
Fourth Sunday of Advent Meaning and Symbolism
The word Advent comes from the Latin word adventus, which means "coming." Advent in the 4th and 5th century was a time of preparation for the baptism of new Christians. Christians would spend 40 days in prayer and fasting to prepare for the celebration that accompanied the baptism of new believers.
Over time, advent was connected to the coming of Christ. Originally, Christians used this term to reference Christ's second coming, but by the Middle Ages Advent was connected to Christ's first coming that we celebrate at Christmas. Today, we celebrate Advent over the four Sundays leading up to Christmas each year.
The Advent season is an invitation for us all to choose to set aside the fear and uncertainty that has defined 2020. It's a chance to be intentional about taking our focus off of the hustle of the Christmas season. We can also give to God the sadness that many may be feeling as many of us will need to observe the holiday season differently this year. This fourth Advent Sunday we are reminded that Jesus offers us peace in every season and nothing is impossible with him!
The fourth candle of Advent is called the "Angel Candle" and symbolizes peace. This name comes from the fact that the angels announced that Jesus came to bring peace (Luke 2:14). This week we are reminded that Jesus came to bring peace to our hearts and to our world!
19 December 2021
Amanda Idleman (Crosswalk.com)